Shoals MPE, LLC has been acquired by The D.T. Scarborough Group
Sale of installation, repair and service provider of HVAC, electrical and plumbing services
Ironline Advisors acted as exclusive advisor to Shoals MPE, LLC in the sale of the company to The D.T. Scarborough Group of Florence, AL. Made up of three operating entities-Shoals MPE, LED Fixture Solutions and MPE Services-the companies will continue to operate under the Shoals MPE brand.
About the Companies
Shoals MPE, LLC operating as Shoals MPE and MPE Services
Shoals MPE, founded in 1973 and operating under Darren Rhodes' leadership since 2010, is a leading installation, repair and service provider of HVAC, electrical and plumbing services to commercial and residential clients throughout North Alabama and adjoining states. With four locations in North Alabama, the Company will continue to be headquartered in Florence, AL under Scarborough's leadership. For more information, visit www.shoalsmpe.com.
LED Fixture Solutions, LLC d/b/a LED Stick Company
LED Fixture Solutions is a wholesaler of LED supplies sourced from international manufacturers and distributed throughout the U.S. The Company will continue to be based in Florence, AL.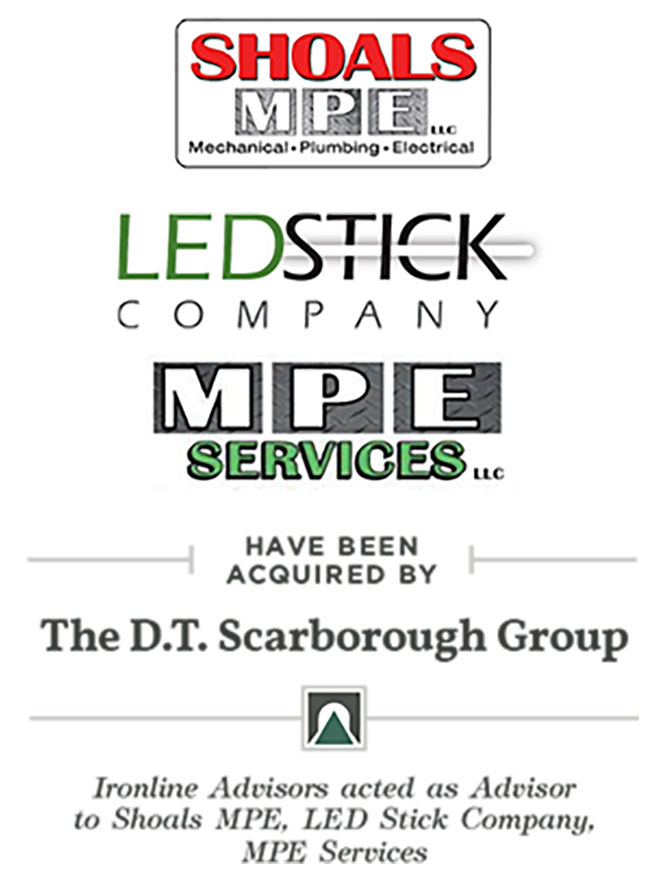 For additional information about this transaction, please contact:
Print Deal Announcement