Case Study
Strategic Value Maximization
D.L. Acton Construction has been acquired by McLemore Building
Ironline Advisors acted as advisor to D.L. Acton Construction Company, Inc. of Birmingham, Alabama.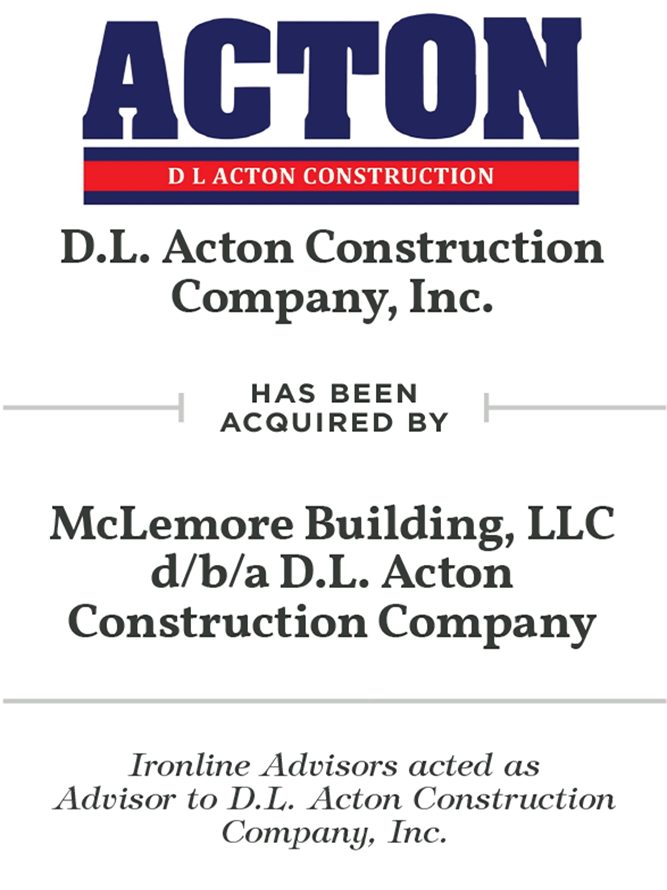 Internal Sale of 31-Year-Old Regional Commercial Contractor
Doug Acton followed in the family footsteps and entered the construction industry after graduating from Auburn University. After learning different aspects of the business working for others, Doug struck out on his own in 1989 founding D.L. Acton Construction Company.
Quickly Acton Construction became known for high-quality work with a focus on customer service. Over the years, the business expanded to Tennessee, Georgia, Florida, Virginia and Louisiana and as one of Acton's guys said, "there's not one person from the owner of the building to the laborers who doesn't know Doug Acton. He traveled throughout the region personally supervising project." Under his leadership, D.L. Acton developed a strong reputation with Design/Development groups for its "team approach" in the design and construction of commercial building projects.
With more than 30 years in business, Acton began to think about a succession plan and transition to the next generation. To do this he turned to Ironline.  Stan Bailey, Chairman of Ironline Advisors, stated, "I have known and worked with Doug for several decades, always respecting his knowledge and integrity as both a general contractor and businessman."
In December 2020, Acton completed his leadership and ownership succession plan through the sale of the Company to its current President, Brandon McLemore. With over twenty years tenure with D. L. Acton, McLemore formed McLemore Building, LLC to complete the acquisition and will continue to operate as D. L. Acton Construction. Both Acton and McLemore enlisted the advisory services of Ironline Advisors to successfully complete the transaction.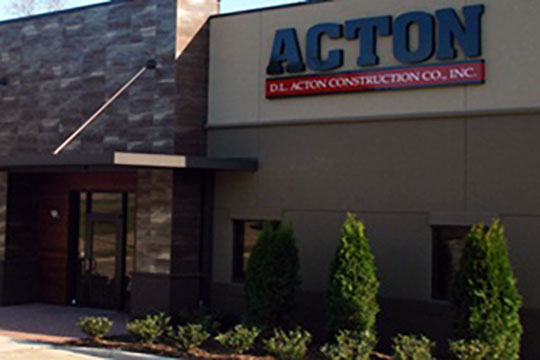 D.L. Acton Construction Company, Inc.
Established in 1989, D.L. Acton Construction is a General Contractor providing building services for churches, healthcare facilities, financial institutions, office buildings, industrial plants, and retail facilities. Headquartered in Pelham, Alabama, D.L Acton performs work in Alabama, Florida, Mississippi, Georgia, Tennessee, Louisiana and South Carolina.