Mohegan Renewable Energy Entered Into $7.5 Million Export-Import Credit Facility, $12 Million Term Credit Facility & Primary Banking Relationship with Regions Bank
Ironline Advisors acted as exclusive advisor to Mohegan Renewable Energy, an affiliate of Mohegan Holding Company, in the implementation of a $7.5 million export-import credit facility, $12 million term credit facility and a primary banking relationship with Regions Bank.
Mohegan Renewable Energy provides wood pellets and other biomass products to the global markets. The Company acquired Lee Energy of Crossville, Alabama in December 2017. The Crossville facility and Mohegan Renewable Energy's facility in Jasper, Tennessee, produce and ship more than 200,000 tons of wood pellets domestically and internationally to major utilities. Mohegan Renewable Energy plans further expansion of its operating platform.
About the Companies
Mohegan Renewable Energy and Mohegan Holding Company
Mohegan Renewable Energy, LLC (MRE) was formed in 2018 by Mohegan Holding Company, a business diversification entity of the Mohegan Tribe. MRE provides wood pellets and other biomass products to the global markets.
Mohegan Holding Company, LLC was created by the Mohegan Tribe for business diversification in non-gaming areas, and currently includes interests in franchise restaurants, sustainable energy resources and manufacturing, and office digital solutions. The Mohegan Tribe was founded on southeastern Connecticut's Thames River by Chief Uncas in the early 17th century. After its federal recognition in 1994, the Tribe opened the world-class casino resort Mohegan Sun on its reservation land in Uncasville, CT in 1996. The nine-member Tribal Council serves as the leadership for the sovereign nation, and also serves as the Board of Directors for Mohegan Gaming & Entertainment (MGE) in regard to the Tribe's gaming properties and interests. To learn more about Mohegan Renewable Energy and Mohegan Holding Company, please visit www.mohegan.nsn.us.
Regions Bank
Founded in 1971 with a long-standing banking heritage dating back to 1856, Regions Bank (NYSE: RF) maintains a banking presence across a 15 state footprint. Regions commercial banking services include treasury management, institutional services, insurance and equipment financing. To learn more about Regions commercial banking please visit www.regions.com/commercial-banking.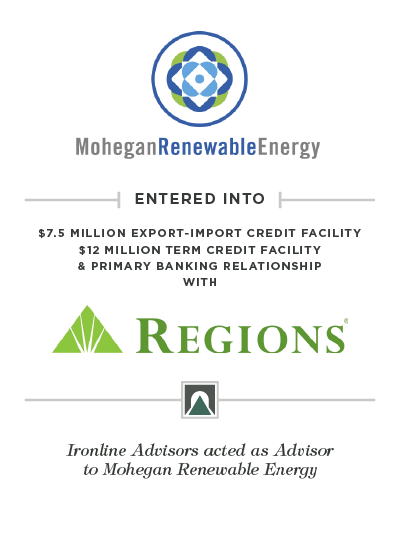 For additional information about this transaction, please contact:
Rick Gardner
M&A Advisor
Stan Bailey
Chairman