Alliance Source Testing, portfolio company of Align Capital, has acquired Air Sampling Associates.
Acquisition of Air Sampling Associates
Alliance Source Testing, LLC of Decatur, AL, a top 10 national environmental air testing company, has announced the acquisition of and merger with Air Sampling Associates, Inc. of Lewisville, TX. Ironline Advisors served as the transaction advisor to Alliance Source Testing
Bill Hefley and Patrick Selakovich, partners of Air Sampling Associates, will remain with the company in expanded management roles.  Hefley, who will serve as Operations Manager for Texas with the merged companies, stated, "We're extremely excited to join the rapidly growing Alliance Source Testing team. This merger will allow us to continue offering the same level of quality source testing while adding additional resources and services for our current and future customers."
About the Companies
Air Sampling Associates
Formed in 2004, Air Sampling Associates provides stack testing services throughout Texas, Oklahoma, and the southwestern United States.  Air Sampling was founded by and has operated under the leadership team of Bill Mullins, Bill Hefley and Patrick Selakovich for the past 11 years. Mullins, President of Air Sampling Associates, is a member of the Source Evaluation Society (SES) Hall of Fame, who has recruited and trained many of the most knowledgeable source testing professionals in the Industry over his 40 year career.
Alliance Source Testing
Alliance Source Testing is a top 10 industry leading air testing company providing customers with high quality, cost-effective source testing solutions throughout the U.S. Headquartered in Decatur, Alabama, Alliance serves clients in 30 U.S. states through its network of offices and personnel located in Little Rock, Arkansas; Tyler, Texas; Pittsburgh, Pennsylvania; and West Chester, Pennsylvania. Under the leadership of Chris LeMay and Ty Batchelor, Alliance Source Testing is focused solely on providing accurate, consistent source testing solutions that allow its business partners to make informed decisions about the operations of their facilities.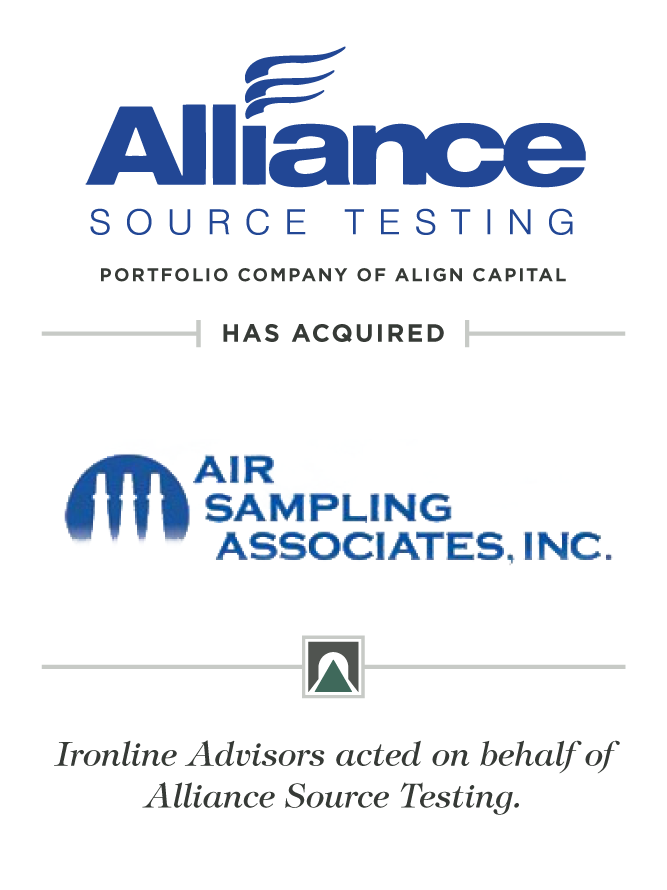 For additional information about this transaction, please contact: