McCollough Plastic Surgery Center Joins Inspire Aesthetics
McCollough Plastic Surgery & Skin Center and Total Health Spa joins forces with Inspire Aesthetics to offer comprehensive plastic surgery and aesthetics services.
Ironline Advisors acted as exclusive advisor to McCollough Plastic Surgery & Skin Center and Total Health Spa of Gulf Shores, AL in its affiliation with Inspire Aesthetics of Delray Beach, Florida.
About the Transaction
Inspire Aesthetics consummated the partnership with McCollough Plastic Surgery to expand its network of top plastic surgeons throughout the Southeastern United States. McCollough Plastic Surgery is the fifth strategic addition in the last twelve months with top plastic surgeons in eight offices located in Fort Lauderdale and Fort Myers, FL; Marietta, GA; Hampton Roads, VA; and Gulf Shores, AL.
Through its affiliation with Inspire Aesthetics, Dr. Gaylon McCollough and Dr. Brentley Taylor plan to grow McCollough Plastic Surgery & Spa with additional surgery suites, new specialty physicians and expanded spa services on its campus at the McCollough Institute.
About the Companies
McCollough Plastic Surgery & Skin and Total Health Spa
McCollough Plastic Surgery has served over 30,000 aesthetic patients throughout the U.S. for the past 48 years under the leadership of Dr. E. Gaylon McCollough MD, FACS. His first clinic began in Birmingham, AL in 1974; in 2000, he built The McCollough Institute for Appearance & Health in Gulf Shores, AL to provide a multi-discipline, multi-physician suite of aesthetic services including plastic surgery and spa services with extended stay patient recovery accommodations within the Arnold Palmer designed Craft Farms Golf Resort.  McColloughPlasticSurgery.com.
Inspire Aesthetics
Based in southern Florida, Inspire Aesthetics is a growing family of elite plastic surgery and spa centers with clinics in southern Florida, recently expanding into neighboring Georgia and Alabama, as well as adding a Hampton Roads, VA plastic surgery practice, all with a common goal of providing premium surgical and non-surgical procedures staffed by top plastic surgeons and aesthetic professionals. InspireAesthetics.com.
Hidden Harbor Capital Partners
Hidden Harbor Capital Partners is a private equity firm which helps create business success stories by building teams focused on execution. Hidden Harbor brings large-scale, private equity experience and resources to the lower middle market. The principals are investor operators who bring over 55 years of both extensive transaction and operating experience. HH-CP.com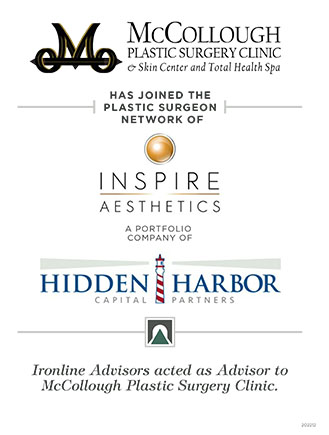 For additional information about this transaction, please contact: