Primary Eyecare has been acquired by Eyecare Partners, affiliate of Friedman, Fleischer & Lowe.
Sale of Multi-Clinic Optometry Practice
Ironline Advisors acted as exclusive advisor to Primary Eyecare Associates & Laser Eye Center of Montgomery, AL and Prattville, AL, in its sale to EyeCare Partners, LLC.
EyeCare Partners consummated the transaction with Primary Eyecare to expand its eye care services to patients in Central Alabama. Primary Eyecare is EyeCare Partner's fourth strategic investment in the last twelve months and its second in Alabama. Primary Eyecare will continue to serve new and existing patients in both of its Central Alabama locations.
About the Companies
Primary Eyecare Associates & Laser Eye Center
Primary Eyecare Associates has served patients in Central Alabama for over 25 years. With 80+ cumulative years of experience, optometrists and ophthalmologists provide comprehensive eye care services including management of ocular diseases (glaucoma, macular degeneration, cataracts), orthokeratology (eye reshaping to correct vision), LASIK & refractive surgery, as well as InfantSEE (early detection of potential eye problems in children). To learn more about Primary EyeCare Associates, please visit www.primaryicare.com.
EyeCare Partners
Based in St. Louis, MO, EyeCare Partners is a growing family of independent primary eyecare practices, with more than 140 offices located throughout Missouri, Illinois, Ohio, Kentucky, Alabama and North Carolina. EyeCare Partners serves the vision care needs of hundreds of thousands of patients annually, offering comprehensive medical eye care services including ophthalmological and LASIK service as well as an integrated full service lab. For more information visit www.eyecare-partners.com.
Friedman Fleischer & Lowe
Friedman Fleischer & Lowe (FFL), a San Francisco, CA private equity firm, was formed in 1997 to invest in middle-market companies where the substantial strategic and operating expertise of FFL's principals can help management improve margins, make acquisitions and grow earnings. FFL is currently investing out of its $2.0 billion fund raised in 2015. To learn more about FFL, please visit www.fflpartners.com.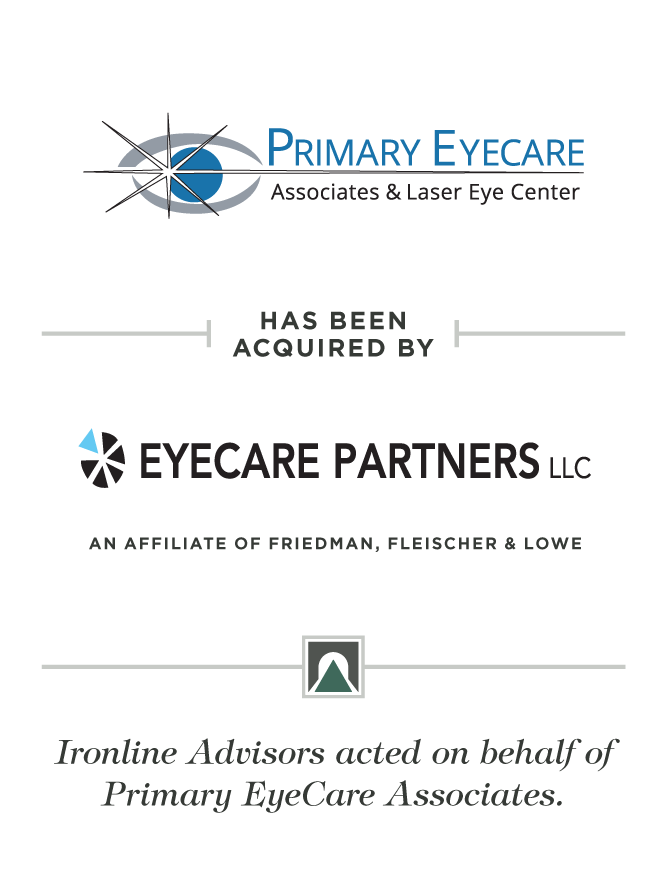 For additional information about this transaction, please contact: