Guerra Holdings has acquired Somay, Paints, Inc.
Purchase of Specialty Paint & Coating Manufacturer
Ironline Advisors acted as advisor to Guerra Holdings in its acquisition of Somay Products, Inc.
Guerra Holdings, acquired Somay Products, Inc. as part of its patent division, which has invented and secured patents, trademarks, copyrights and licensing for hundreds of inventions featured in movies, TV shows, retailers, restaurants, hotels, cruise lines and sports events. Inventions include Flogos TM, cloud-like flying logos using extruding helium-filled foam; Eco-Scent TM, a device that generates a replica of virtually any scent; and Drink Safe Coasters TM, featured as one of Time Magazine's Best Inventions in 2002.
About the Companies
Guerra Holdings
Guerra Holdings is an umbrella corporation for many small and large businesses in the transportation, technology, retail and entertainment industries. Its subsidiaries include Global Special Effects, a worldwide visual special effects company that has served the filmmaking, television, theme park and entertainment industries for more than 20 years, and Global Engineering, a 39-year-old specialty engineering and manufacturing company focused on wire harness design and assembly for defense, public transportation, medical and technology industries.
Somay Products Inc.
Founded in 1926 and headquartered in Miami, FL, Somay is a manufacturer, distributor and exporter of premium quality paints and waterproofing coatings for architectural and industrial application. The Company's niche market products include SOMAY "ROOF MASTIC"®, an elastomeric waterproof roof coating system; Underwater Technologies® "HYCOTE" 151, coating applied underwater to military vessels, offshore oil platforms, pipelines, shipping docks and piers; and "STERI-SHIELD"® Fungistatic Paint, tested and proven by independent laboratories to be the most effective paint to resist the growth of harmful mold, mildew, fungus and bacteria.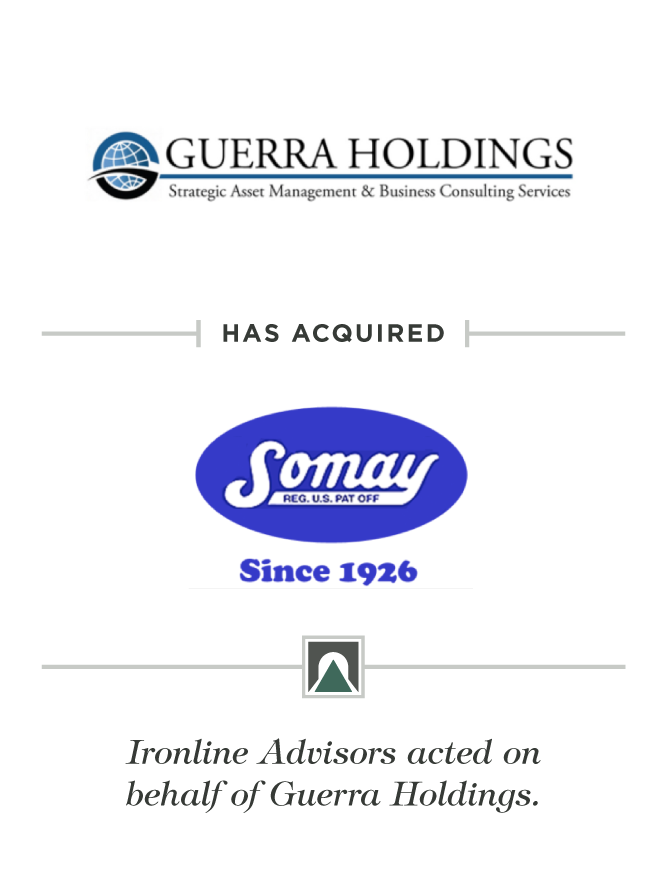 For additional information about this transaction, please contact: