Shamrock Paper Company has been acquired by a confidential strategic buyer.
Acquisition of 70 Year Old Midwestern Paper Converter
Ironline Advisors acted as exclusive advisor to Shamrock Paper Company, a paper converter providing kraft paper, chipboard, butcher/freezer paper (FDA approved) and newsprint to commercial customers across the Midwest.
Shamrock was acquired under the name of Shamrock Paper, LLC, a new entity established by a confidential strategic buyer providing similar paper-based products to various commercial markets including the automotive aftermarket. With plants already located in the Eastern and Northwestern U.S., Shamrock fills in the acquiror's Mid-America markets, establishing a truly nationwide platform.
About the Companies
Shamrock Paper Company
Established in 1949, Shamrock Paper Company provides custom and branded paper products to distributors for commercial, food and retail application as well as cut and spool re-rolling services. The Company processes over five million pounds of paper annually to 100+ Mid-American customers from its St. Louis, MO headquarters.
Ironline Advisors
Ironline Advisors is a full-service advisory firm providing sell-side, buy-side, transaction financing and value maximization services to lower middle-market private companies located throughout the U.S. Its 10-member team of advisors have experience and knowledge in over 20 industries. Ironline Advisors is headquartered in Birmingham, AL with offices in Dallas, TX and Lexington, KY.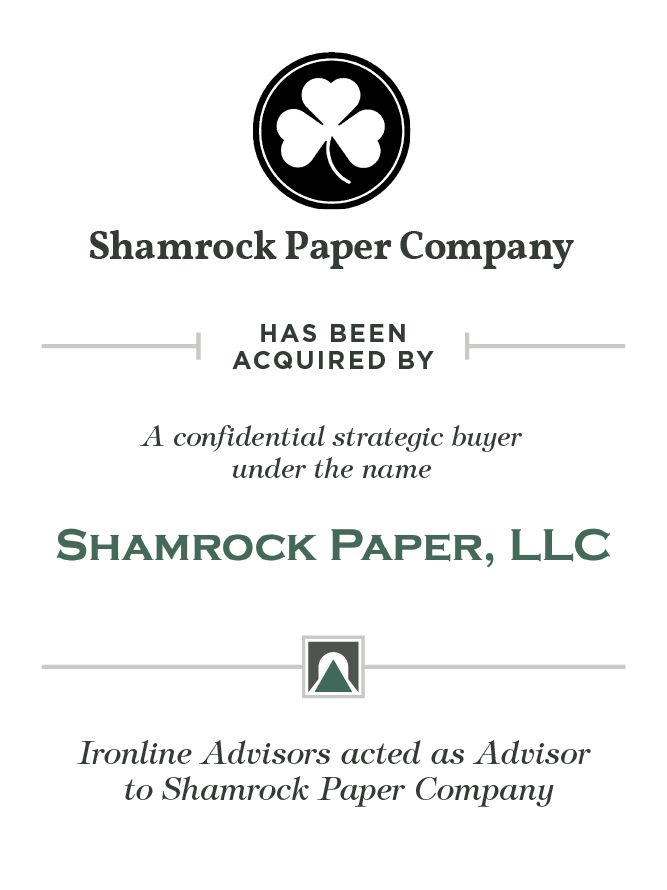 For additional information about this transaction, please contact:
Rick Gardner
M&A Advisor
Stan Bailey
Chairman