Greystone Foods has been acquired by Imperial Frozen Foods, portfolio company of Kenex Holdings.
Sale of private label frozen vegetable packaging company
Ironline Advisors acted as exclusive advisor to Greystone Foods of Birmingham, AL, in its sale to Imperial Frozen Foods of Wake Forest, NC. Founded in 2002, Greystone manufactures 30 varieties of grade-A frozen vegetables for distribution to 2,000 supermarkets across the United States. Imperial Frozen Foods is owned by Kenex Holdings and Imperial Frozen Foods management.
Alex McIntosh, Imperial's VP of Sales, commented, "We feel Greystone is a strong strategic fit with our go to market strategy which will now allow Imperial to offer a one stop shop for IQF fruit and vegetables with both branded and private label solutions. Combining private label with Sunkist® Frozen Fruit and Today's Harvest Vegetables on the same truck can generate significant freight efficiencies for our customers."
About the Companies
Imperial Frozen Foods
Imperial Frozen Foods was formed in 1957 as an extension of the Fruitcrest Preserve Company. Imperial's owners expanded the Company to become a leading supplier of high quality frozen fruits to further processors. Today, Imperial is a leading supplier of Grade A conventional and organic frozen fruits to the retail, club and food service segments. To learn more about Imperial Frozen Foods, please visit www.imperialfrozenfoods.com.
Greystone Foods
Greystone Foods manufactures 30 varieties of grade A frozen vegetables for distribution to 2,000 supermarkets across the United States. Products are distributed under the Company's private label brand, Today's Harvest, as well as exclusive customer private label brands. Greystone offers its full range of individually quick frozen (IQF) vegetables in clear, re-sealable bags, allowing customers to see the vegetables being purchased. In addition, the bags prevent the product from acquiring crystallization during its transition through the supply chain from Greystone to the end user.
Kenex Holdings
Kenex Holdings was founded in 2013 as an investment holding company to represent the interests of a collection of Midwest families. The Company's mission is to support small, private and family-owned companies with revenue under $250M in agriculture, food and beverage, transportation, logistics and infrastructure services. To learn more about Kenex Holdings, please visit www.kenexholdings.com.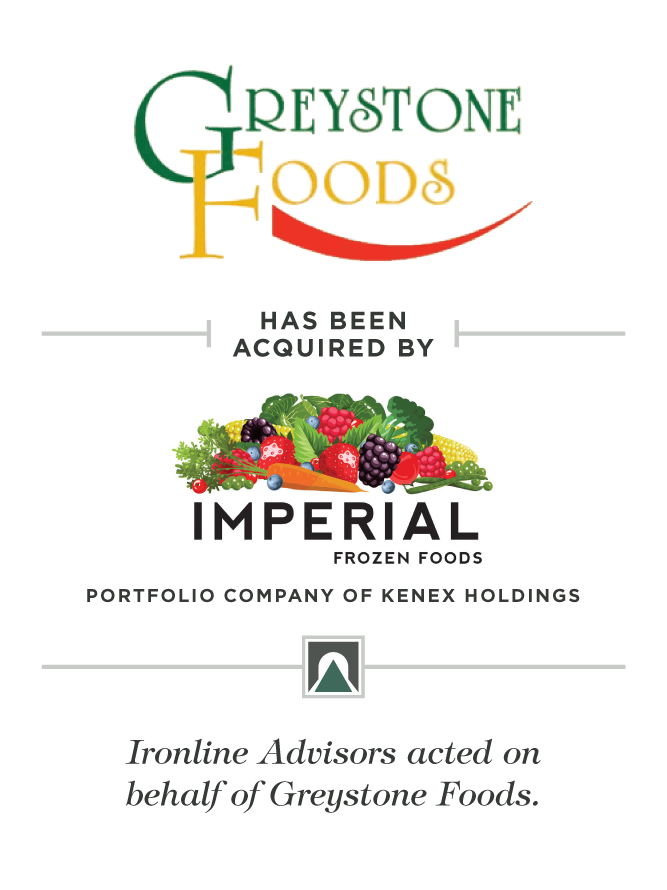 For additional information about this transaction, please contact: