Frontrunner Steel, LLC. has acquired Regional Steel Products.
Sale of Structural Steel Fabricator and Erector
Ironline Advisors acted as exclusive advisor to Regional Steel Products, Inc. and Regional Erectors, Inc. (collectively "Regional"), a structural steel fabricator and structural steel erector, respectively, for commercial building projects, in its sale to Frontrunner Steel, LLC ("Frontrunner") of Mobile, AL.
Frontrunner consummated the transaction with Regional to capitalize on market opportunities including leveraging the Company's existing contacts and bid opportunities as well as expanding into marine and industrial steel product fabrication, installation, and erection. Regional will continue to operate as Regional Steel Products, Inc. and Regional Erectors, Inc. The corporate headquarters of Regional will remain in Semmes, AL.
About the Companies
Frontrunner Steel, LLC
Frontrunner (through its existing ownership, sister companies and its subsidiaries) has serviced the needs of both land based and offshore construction in the marine, energy, and oil and gas industries since 2012. The Company has developed its service and product line offerings from marine construction supervision, steel fabrication, oil rig repair, blasting and coatings to professional skilled labor staffing services.
Regional Steel Products, Inc. and Regional Erectors, Inc.
Regional operates as a Gulf Coast structural steel fabricator and erector of steel beams, joists, girders, hand rails as well as custom retro-fitting existing buildings, including prominent high-rises throughout the region. Regional serves commercial contractors in the Southeast for various projects involving structural steel needs. Past projects include fast-food franchises, supermarkets, banks, commercial retail outlets, schools, pharmacies, hospitals, medical clinics, and churches.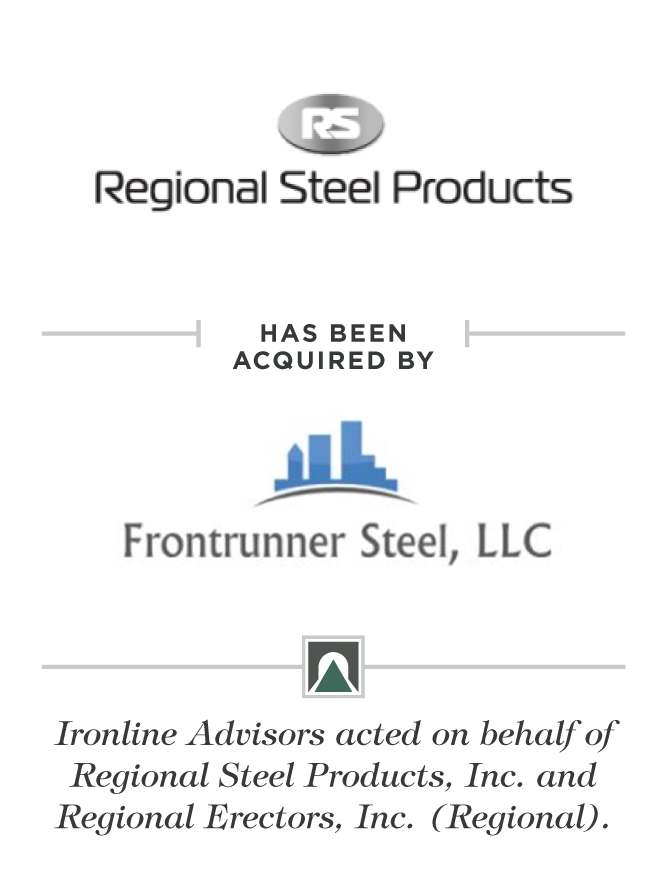 For additional information about this transaction, please contact: