Dorm Décor acquired by Magnussen Home
Sale of Dorm Room Furniture Manufacturer & Distributor
Ironline Advisors acted as exclusive advisor to Dorm Décor of Birmingham, Alabama, in its sale to Dorm Décor, Inc., an affiliate of Magnussen Home Furnishings. Dorm Décor is a leading manufacturer and distributor of dorm room furniture for college students across the United States.
Dorm Décor will become part of Magnussen's US operations, based in High Point, NC. The acquisition will allow Magnussen to expand its offering into the dorm furniture and accessories market.
About the Companies
Dorm Décor
Dorm Décor is a manufacturer and distributor of furniture and home furnishing product intended to offer dorm decor ideas for luxurious living spaces and organized living. The Company's furniture and home furnishing product include chairs, tables, beds, sofas, decorative rugs, home carpets and among others, enabling students and parents to meet their needs by getting quality products, functionality, unique styling and custom options for refined college living. To learn more about Dorm Décor, please visit www.dorm-decor.com.
Magnussen Home
Founded in 1931 by Ingwer Magnussen in the town of Kitchener, Ontario, Magnussen Home began as a small maker of occasional tables and has grown to become a leading full-line furniture supplier. In its early years the Company served Canadian upholstery manufacturers, creating beautiful, intricately carved show wood for sofa frames, earning a reputation that allowed the business to grow its market presence in Canada. By the late 1980's, Magnussen Furniture became Canada's largest supplier of occasional tables. Magnussen Home opened its US division in 1986. Today, the Company's offerings include bedroom, youth, dining, home office, entertainment and upholstery collections. Magnussen remains a closely-held company with its US headquarters in High Point, North Carolina and distribution centers in Ho Chi Minh City, Vietnam and Riverside, California. To learn more about Magnussen Home, please visit www.magnussen.com.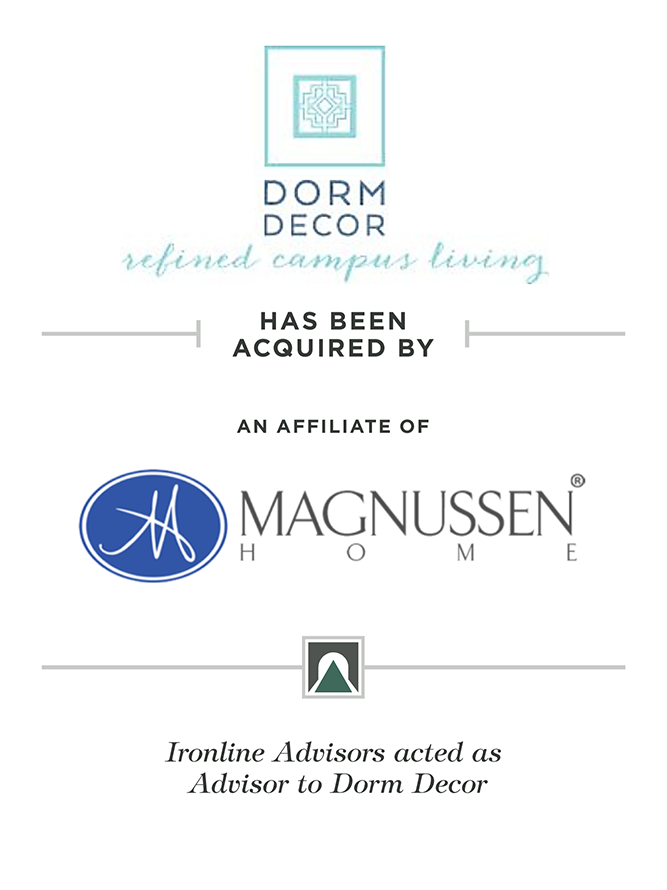 For additional information about this transaction, please contact: