D.L. Acton Construction Company, Inc.
Internal Sale of 31-Year-Old Regional Commercial Contractor
Ironline Advisors acted as advisor to D.L. Acton Construction Company, Inc., a general contractor providing commercial building services throughout the Southeastern U.S. Under the leadership of Founder and CEO Doug Acton, the Company developed a strong reputation with design and development groups in the development of commercial building projects.
D.L. Acton completed a leadership and ownership succession plan through the sale of the Company to its current President, Brandon McLemore. With over 20 years tenure with D.L. Acton, McLemore formed McLemore Building, LLC to complete the acquisition and will continue to operate as D.L. Acton Construction.
About the Companies
D.L. Acton Construction Company, Inc.
Established in 1989, D.L. Acton Construction is a General Contractor providing building services for churches, healthcare facilities, financial institutions, office buildings, industrial plants, and retail facilities. Headquartered in Pelham, Alabama, D.L Acton performs work in Alabama, Florida, Mississippi, Georgia, Tennessee, Louisiana and South Carolina.
Ironline Advisors
Ironline Advisors is a full-service advisory firm providing sell-side, buy-side, other transaction advisory services to lower middle-market private companies located throughout the U.S. Its advisory team has experience and knowledge in over 20 industries.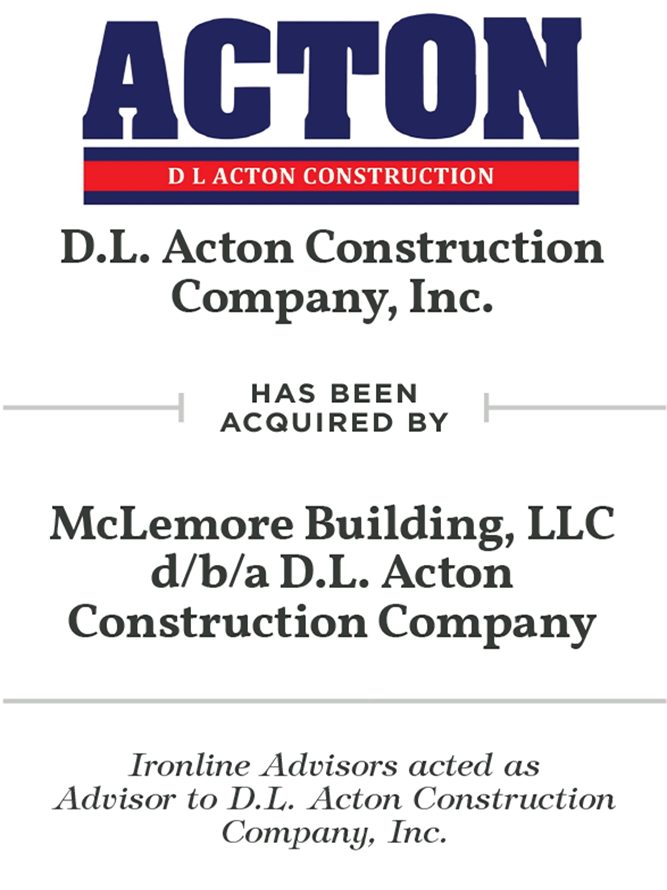 For additional information about this transaction, please contact: