CAFI – Architectural Finishes & Capps Customs has been acquired by Alabama Specialty Products
Commercial Window Treatment & Specialty Architectural Materials Company
Ironline Advisors acted as exclusive advisor to CAFI, LLC d/b/a Architectural Finishes & Capps Customs, Inc., a window treatment and specialty architectural materials firm serving commercial customers including Regions Bank, Books-A-Million, Mercedes-Benz, Healthsouth Hospital and the University of Alabama, among others.
CAFI, LLC was acquired under the name of Alabama Specialty Products, LLC, a new entity established to provide similar architectural and construction products to various commercial markets across the Southeastern U.S.
About the Companies
CAFI, LLC d/b/a Architectural Finishes & Capps Customs, Inc.
Formed in 2013 as a result of the merger between two comparable companies that have been in the marketplace since the late 1960's, CAFI, LLC designs, fabricates and installs a wide variety of finishing treatments including ceiling, wall, acoustic and sound diffuser systems specially selected to meet exact technical specifications. In collaboration with architects and design teams, the Company serves commercial customers in the retail, education, healthcare, aerospace and automotive industries. For more information, visit cappscustoms.com
Ironline Advisors
Ironline Advisors is a full-service advisory firm providing sell-side, buy-side, transaction financing and value maximization services to lower middle-market private companies located throughout the U.S. Its 10-member team of advisors have experience and knowledge in over 20 industries. Ironline Advisors is headquartered in Birmingham, AL with offices in Dallas, TX and Lexington, KY.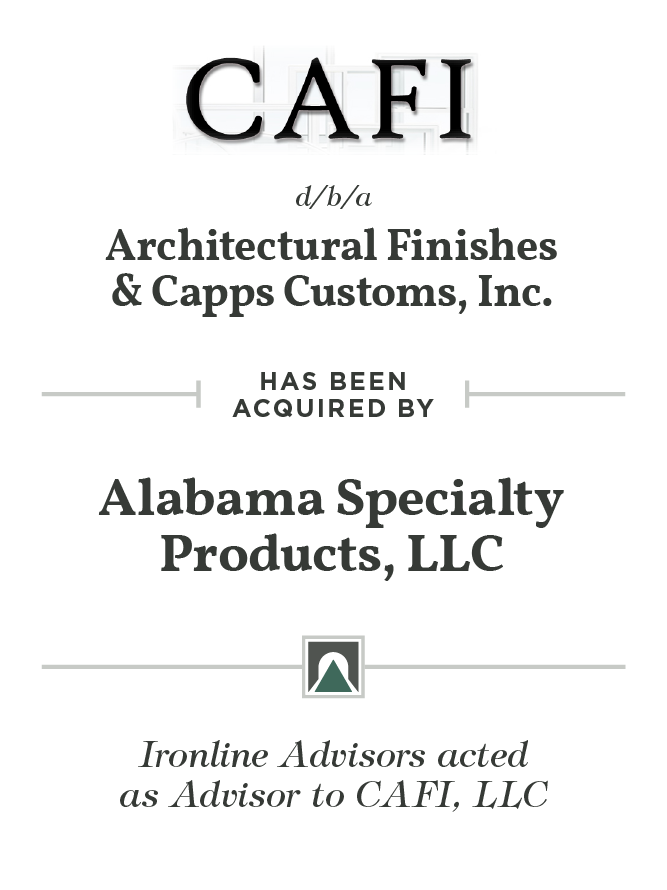 For additional information about this transaction, please contact:
Tom Jung
M&A Advisor
Stan Bailey
Chairman