Bobo Engineering, Inc. has been acquired by Global Special Effects.
Sale of Specialty Electrical Engineering Company
Ironline Advisors acted as exclusive advisor to Bobo Engineering, Inc., a specialty electrical engineering and manufacturing company, in its merger with Global Special Effects of Lexington, AL, becoming Global Engineering Inc.
Guerra Holdings, the parent company of Global Special Effects, consummated the merger with Bobo Engineering to meet the need for an in-house engineering facility that manufactures wiring harnesses. Global Engineering will continue to handle the customers of Bobo Engineering and most of Global Special Effects' research and development projects, including its contract engineering and manufacturing, from both its Arab and Lexington, AL facilities. The corporate headquarters of Global Engineering will be at Guerra Holdings in Lexington, AL.
About the Companies
Bobo Engineering, Inc.
Bobo Engineering of Arab, AL is a 37 year old, family owned and managed specialty engineering and manufacturing company focused on wire harness, cable and electromechanical assemblies design from blueprinting to prototyping and assembly for the defense, public transportation, medical and technology industries. Bobo Engineering President Russell Bobo will serve as the Director of Engineering and Manufacturing for Global Engineering.
Global Special Effects, Inc.
Global Special Effects, Inc. is a worldwide visual special effects company whose products have been featured in motion pictures, commercials and music videos as well as theme parks and attractions around the world. Guerra Holdings is the parent company of Global Special Effects, Global Home and other subsidiaries including real estate and property management companies. The firm is an umbrella corporation for many small and large businesses in the transportation, technology, fitness, retail and entertainment industries.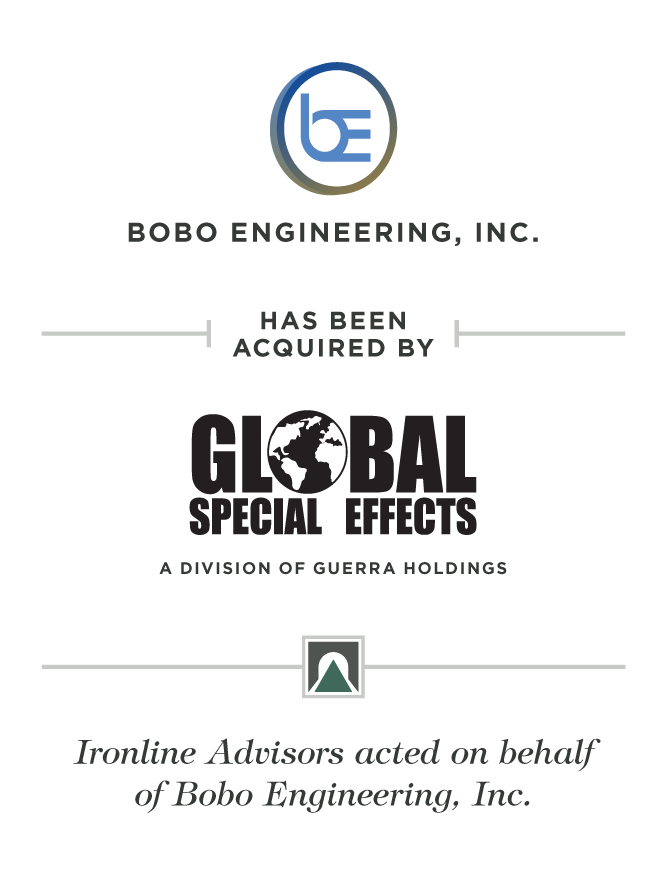 For additional information about this transaction, please contact: