AquaShield, Inc. acquired by Komline-Sanderson
AquaShield, Inc. is a manufacturer of products for stormwater runoff, rainwater harvesting, and construction site discharges.
Ironline Advisors acted as exclusive advisor to AquaShield, Inc. in its sale to Komline-Sanderson, an affiliate of Sunny River Management of Atlanta, GA and Satori Capital of Dallas, TX.
About the Companies
AquaShield, Inc.
Founded in 1999 by CEO Kelly Williamson and headquartered in Chattanooga, TN, AquaShield has established a strong reputation within the stormwater industry for the development of high-quality engineered products including hydrodynamic separators, stormwater filtration systems, catch basin inserts, and biofiltration solutions. Over the past twenty-two years, AquaShield has expanded its storm water products and customer base into a national presence in the stormwater industry.
Komline-Sanderson Corporation, Sunny River Management and Satori Capital
Since 1946, Komline-Sanderson Corporation has provided the highest quality equipment for applications including process/production filtration, drying, thermal processing, waste-water treatment, sludge processing and pollution control. The Company, headquartered in Peapack, New Jersey, solves wastewater, industrial processing, and flue gas cleaning challenges for industrial and municipal customers around the world.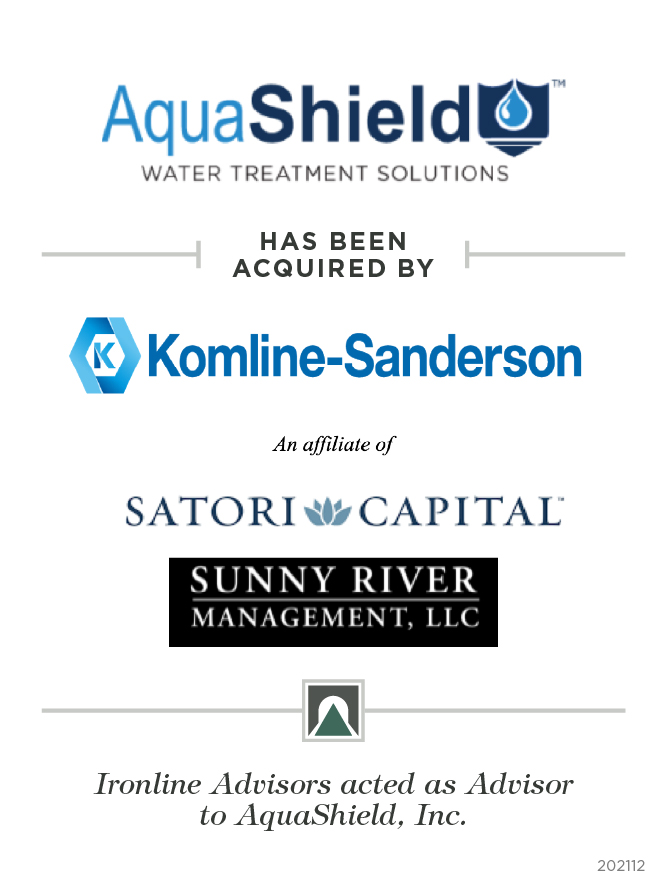 For additional information about this transaction, please contact: