Southeastern Automatic Sprinkler Co. acquired by Amteck
Sale of Fire Suppression System Manufacturer
Ironline Advisors acted as exclusive advisor to Southeastern Automatic Sprinkler of Madison, MS, in its sale to Amteck of Lexington, KY. Southeastern Automatic Sprinkler is a leading fire system design, inspection and installation specialist with clients throughout the Southeast.
Amteck has five locations in Kentucky, Tennessee, South Carolina and Alabama. Southeastern Sprinkler is Amteck'sthird add-on acquisition in the last twelve months. Recently, Amteck acquired Proformance Group of Greenville, SC and Consolidated Electrical Contractors and Engineers of Dothan, AL. Amteck is an affiliate of Trive Capital of Dallas, TX.
About the Companies
Southeastern Automatic Sprinkler
Founded in 1958, Southeastern Automatic Sprinkler is a fire protection system specialist offering design, installation, inspection and certification for companies throughout Mississippi, Louisiana, Alabama and Tennessee. Clients include commercial, manufacturing, multi-resident housing and corporate facilities.
To learn more about Southeastern Automatic Sprinkler, please visit www.southeasternautomaticsprinkler.com.
Amteck
In 1977 Amteck was founded in Central Kentucky with the belief that growth only comes by listening and responding to both clients and employees. Four decades later, Amteck has grown from a small electrical contracting firm to a national leader in the design/build support electrical contracting industry. Amteck specializes in facility growth expansion initiatives of companies that operate in the manufacturing, industrial, process, food, and beverage, hospitality, healthcare, distribution facilities, and commercial and institutional sectors.
To learn more about Amteck, please visit www.amteck.com.
Trive Capital
Trive Capital is a Dallas, Texas-based private equity firm managing over $2 billion in capital and invests in both equity and debt in order to create bespoke, tailored capital solutions. Trive was formed in 2012 and focuses on investing in what it sees as strategically viable middle-market companies with the potential for transformational upside through operational improvement. Since 1998, Trive's team members collectively have successfully sourced, executed and managed more than 50 transactions across a range of industries, representing over $5 billion in aggregate revenue.
To learn more about Trive Capital, please visit www.trivecapital.com.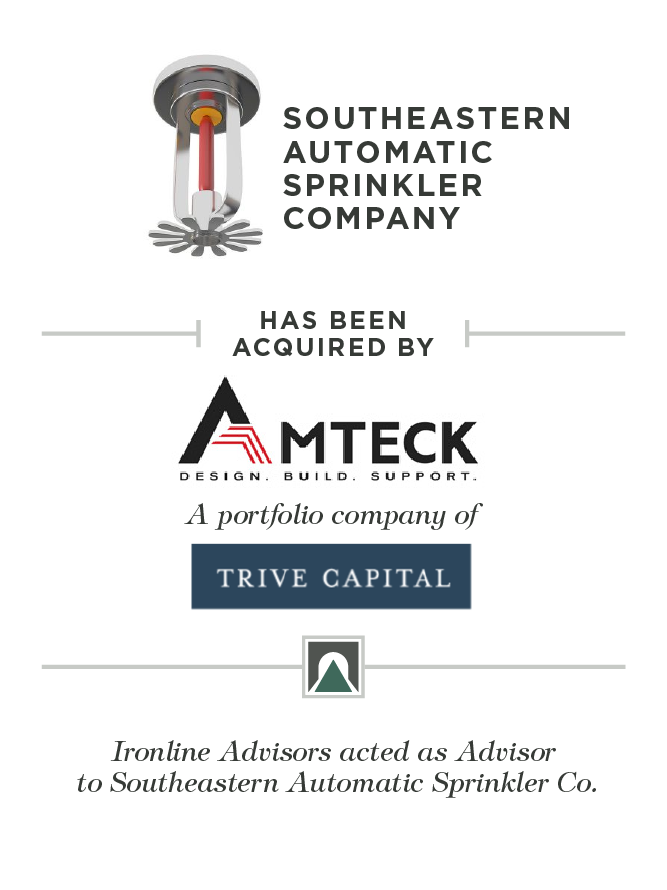 For additional information about this transaction, please contact:
Stan Bailey
Chairman
Rick Gardner
M&A Advisor
Tom Jung
M&A Advisor