Case Study
Generational Transfer
Savage's Bakery transitions from one generation to the next.
Ironline Advisors provided strategic market pricing services to Scott's Bakeries and transaction services to M. Scott's Bakeries.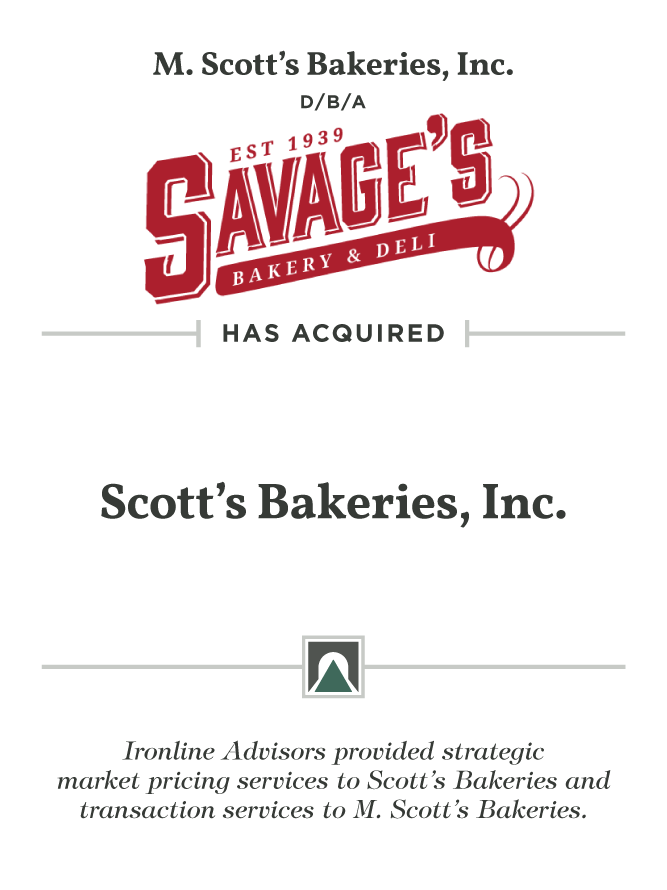 Transition of a Family Business from one Generation to the Next
Not long out of college, Van Scott Jr. took a job at Waite's Bakery in Birmingham. For most MBA graduates, such a job might be a temporary gig until something permanent comes along. For Scott, it turned into his life's work. At Waite's Bakery he learned that he had a passion for baking, decorating cakes and, equally important, the fine art of running a bakery.
At 27, Scott had the rare opportunity to purchase one of Birmingham's longstanding staples: Savage's Bakery & Deli. Having opened its doors in 1939 and earned a position among the city's finest eateries, Savage's posed an opportunity Van Scott couldn't pass up. Since 1978, Van Scott worked the early, long hours of the bakery, expanding its offerings and introducing new recipes while maintaining the flavors and classic approach to baking that made Savage's so successful. For many of those years, his daughter worked by his side, quietly learning the business. Several years ago, Van's daughter decided to make the business her career. Ironline assisted Savage's ownership in the transition from one generation to the next.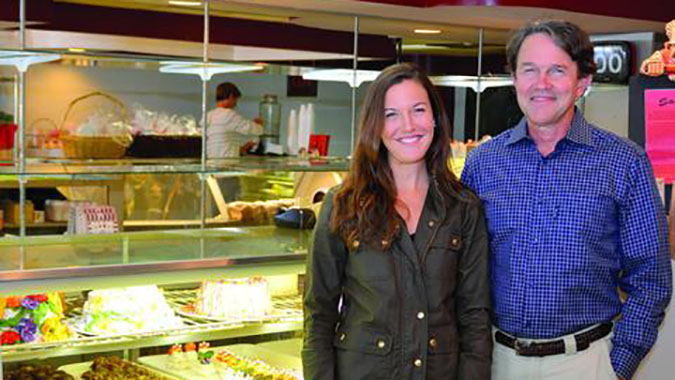 Savage's Bakery & Deli has been a Birmingham landmark for over 70 years. It first opened in 1939 by Mr. and Mrs. William Savage on Highland Avenue and later moved to its current location in Downtown Homewood on 18th Street South. When Savage's Bakery became for sale in 1978, Van Scott Jr., a Birmingham native, seized an opportunity to own one of the city's finest bakeries. Only 27 years old and having recently received his MBA from the University of Alabama, Mr. Scott followed through with his passion for baking and his goals to one day own his own business. After college Mr. Scott had worked for Waite's Bakery, at the time it was another well known scratch bakery, where he learned the basics to baking and cake decorating. It was at Waite's where Van realized how passionate he was about baking, decorating cakes and bakeries all together.
Savage's Bakery & Deli has expanded over the years and has a variety of different products, but a few things will always remain the same. Savage's has always been very well known for the Meltways, Iced Smiley Face Cookies, Butterflake Rolls, and of course the CAKES! Savage's continues to use the original recipes, which take some time, but it makes all the difference when it comes to taste! In 1978 when Mr. Scott purchased the bakery, there were no more than 10 employees, one of which is Louise Cooley, who goes by "Mrs. Lou" when at Savage's. Mrs. Lou began working for Savage's in the 1970's and just recently retired this past year. The business has grown and now employs up to 30 people at the busiest time of the year.
For Mr. Scott owning his own bakery has been a lot of work over the years; early hours and long days and even longer when the holidays roll around. Mr. Scott has said many times that "There is a lot of work that goes on in order to ensure all of our products meet the high standards we hold here at Savage's Bakery." "I have hard working employees who have been working with me for over 10, 20, and even 30 years. I couldn't do it without them; we all work together and take pride in what we do each and every day for this business." Ben Cook has been working for Savage's Bakery and alongside Mr. Scott for nearly 30 years and is considered to be the master of all the ovens.
When the holidays approach Savage's Bakery will start baking a variety of pies: Apple, Cherry, Pumpkin, Sweet Potato and of course Pecan; as well as their "famous" Butterflake, Brookhouse and Parkerhouse Rolls. There will be dozens of Iced Turkey Cookies for Thanksgiving and then starting in December the Christmas Bells, Stars and Tree Cookies. Special orders can be made to ensure each and every customer's holiday season will be one to remember.